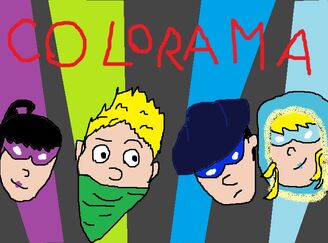 Colorama is Invented by Stepan B. in 2012. when he was 12 years.
The old man called Dr Miro has gathered 2 boys and 2 girls who become heroes.They are now fighting against the evil vampires, Robons from space and other evil things.
Vampires - Vampire queen Lucia
Sea ​​monsters - Sea ​​monster lord
Boli Tebriga (once she was a hero)
Ad blocker interference detected!
Wikia is a free-to-use site that makes money from advertising. We have a modified experience for viewers using ad blockers

Wikia is not accessible if you've made further modifications. Remove the custom ad blocker rule(s) and the page will load as expected.